Latin name: Origanum
Category: perennial herbaceous flowering plants
Origin: North Africa, Southwest Asia
Oregano – the bright charm
Surprising and unsurpassed in its useful and unique qualities, oregano is closely related to mint, lemon balm, sage, basil, lavender, rosemary and other no less original spicy herbs, which together organize a unique community of more than fifty varieties of herbaceous plants.
Oregano (Origanum) or oregano adorns the Lamiaceae family with its presence and is the owner of a unique storehouse of the most valuable food and medicinal properties, as well as a charming and magnificent aroma.
Its spicy qualities in ancient times were appreciated by the inhabitants of the European part of the globe, the Mediterranean regions. And this wonderful culture was a regular guest of the cuisines of these peoples.
At the present stage, without this most important spice, it is simply impossible to cook the legendary Italian pizza or an amazing Greek salad.
Herb oregano is the richest cradle of antioxidant elements, oregano essential oil, tannins, ascorbic acid. Thanks to these elements, the oregano plant is found throughout the world.
The medicinal properties of this medicinal plant include:
Stabilization of the nervous system, acceleration of falling asleep, improvement of the general condition of the body, elimination of headaches.
Improvement of the digestive system with increased appetite.
Control of the respiratory system.
Treatment of diseases of the oral cavity.
Improvement of the skin, children's diathesis, dermatitis.
Oregano is very useful for women. This female culture helps to cope with menstrual irregularities, heals erosion, stops intrauterine bleeding, helps nursing mothers increase the amount of milk, raise the tone of women with the onset of menopause.
Oregano for men is not so useful. It is desirable to limit its use in order not to worsen the state of male potency.
There are also contraindications for the use of this useful plant.
Need to know! Constant use of oregano essential oil is prohibited. Its use can affect the rhythm of menstruation in women, and disrupt erections in men.
Who should not drink oregano tea? People with hypertension, tachycardia, weak heart, gastric ulcer, gastritis are not recommended to be treated with oregano.
Oregano cough is also a very effective remedy. It is not bad to enjoy fragrant and healthy oregano tea at night.
It is used to repel moths. The bees also love this beautiful plant. The contact of bees with this culture is the apogee of the appearance of excellent healthy honey.
All these advantages of oregano are surprisingly combined with its unpretentiousness, excellent decorative properties, a wide variety of varieties that look like a piquant highlight both on any flower garden in the garden, and on light forests, meadows, glades, rocky areas, forming elegant flowering carpets.
Oregano is considered to be native to Southwest Asia and northern Africa. Where does oregano grow? Oregano's natural habitats are the Mediterranean shores, southern European areas, North America. Oregano is widespread in Ukraine.
The pleasant smell of this culture was the direct appearance of its name – oregano.
The number of popular names for this herbaceous plant simply rolls over – mother board, amulet, matserdushka, marjoram, countersink, matryoshka, oregano, forest mint, bone-breaking grass, dushmyanka, bee-lover.
There is an interesting version of one of the names of the flower. Why is oregano called matryoshka? There is a close link between this unique plant and the original chrysalis – this is a woman. After all, the name of the matryoshka doll came from the name of the woman Matryona. And the Latin interpretation of this name is inherent in the "noble woman." And, indeed, the motherboard is female grass.
Very often in circles of flower lovers you can hear questions: what is the difference between oregano and oregano? Oregano – is oregano or not? In fact, there is no absolute difference in these herbs. This is the same plant. Most often, the wild-growing culture is called oregano, and the cultivated plant is called oregano.
This amazing herbaceous culture has an interesting, slightly pubescent, erect tetrahedral stem. The height of this attractive plant is from fifty to seventy centimeters.
The strongly branching top of the stem is a springboard for petiolate leaves elongated in length with slightly pointed tops. The upper side of the leaf plates has a dark color green, and the back side of them is greenish-gray with a slight silvery. The size of the leaves is from one to four centimeters.
Mother grass has a branching creeping root system, thanks to which this unique vegetation spreads very quickly and occupies vast areas.
Oregano grass pleases with special beauty from the middle of the summer season. At this time, from July to the onset of autumn, the plant is covered with unique inflorescences in the form of corymbose panicles, collected from lilac-red bisexual or pistillate flowers.
At the end of summer, seeds appear on biennial bushes. They are similar to poppy seeds. The fruits are dry, trihedral bright brown nuts with sizes up to 0.5 mm.
Oregano seeds do not lose their germination quality up to five years.
Oregano species
Oregano (Origanum vulgare)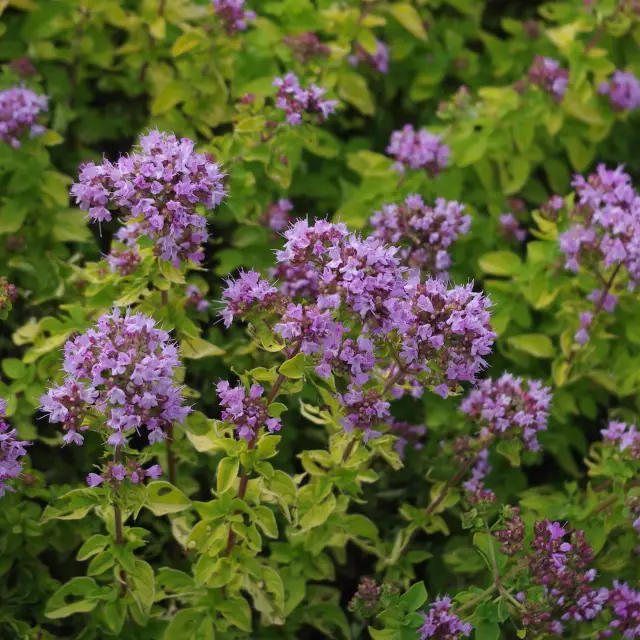 This variety of perennial herbaceous culture is the most common. The height of the bushes reaches seventy centimeters. It consists of erect, generously branched stems, covered with oval or ovoid leaf blades with serrated edges and long petioles. The length of the leaves reaches six centimeters with a width of up to three centimeters. The axils of the upper leaves are the springboard for corymbose inflorescences, collected from light pink or purple fragrant flowers.
This species is frost-resistant and drought-resistant.
The main varieties of this species are:
Oregano white – blooms profusely with small, white flowers
Caramel – has leaves with a pleasant taste.
Rainbow – is considered a healing raw material. Purple leaves contain anthocyanins.
Aureum – forms bushes up to 25 cm high with rounded golden leaves and yellowish inflorescences.
Different varieties of oregano planted side by side look very original.
Cretan Oregano (Origanum distamnus)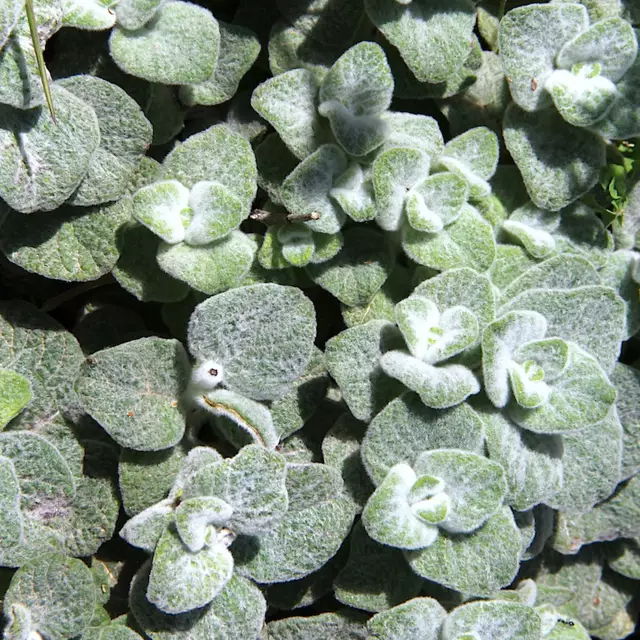 This medium-sized variety can reach both a height of 30 cm and a meter height. It has straight, dense, dark green shoots densely covered with pubescent, rounded leaf blades.
The plant blooms with small, light pink flowers with original large pinkish-green bracts.
Oregano aman (Origanum amanum)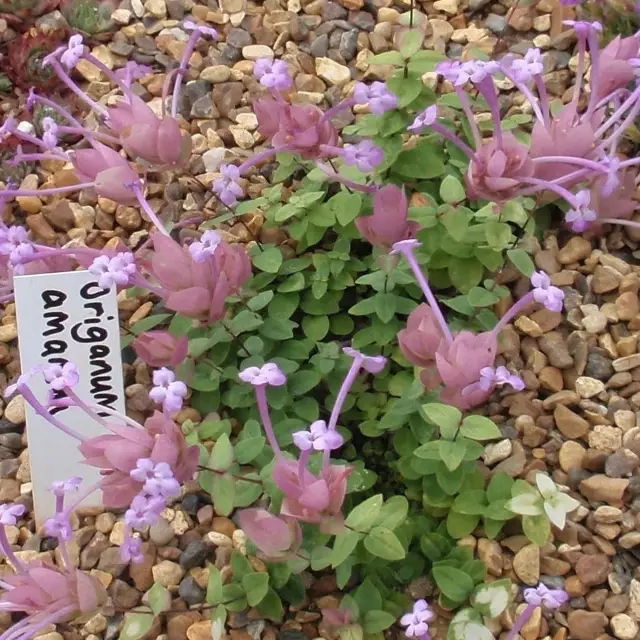 This species is represented by low-growing evergreen bushes, gaining heights up to 20 cm. Flowers with greenish-pink bracts are collected in spike-shaped inflorescences.
The decorativeness of the Aman oregano rolls over. It grows well on balconies, terraces and gardens.
Oregano growing in the country
This wonderful perennial plant looks great in flower beds and flower beds. Oregano grass is very fragrant, unpretentious, the duration of its stay in one territory is not limited, which is a clear positive advantage when breeding a motherboard.
Choosing a place for oregano
The main point when planting oregano is the correct selection of terrain, the quality of which is directly related to the appearance and useful properties of the plant.
The light-loving amulet will look great in an open sunny area, where it will delight the eyes of others for several years.
It is desirable to prepare the territory for oregano in the fall. The substrate culture prefers fertile. Therefore, the soil mixture must be fed with manure, compost, saltpeter and superphosphate.
Oregano care in the country
The main points of caring for the motherboard are:
regular weeding;
high-quality watering;
moderation when moisturizing.
Watering oregano
Moisture requirements for oregano are not too high, but the ground should not be too parched.
It must be remembered that a lack or excess of moisture in the soil can affect the composition of the essential oil in the leaves of the plant.
It is necessary to water the bushes regularly, especially young plants up to two years of age.
Fertilizer
Fertilize adult amulets bushes starting from spring warming. Suitable for this procedure:
saltpeter;
mullein solution;
bird droppings.
Young specimens will be content with the nutrients introduced into the soil mixture when preparing the site for planting oregano.
If necessary, top dressing can be repeated in the summer. You can buy in a store for flower growers and use complex mineral dressings.
When growing oregano as an ornamental crop in a flower bed, there is no need to apply fertilizer.
Weeding and loosening
Regular loosening of the earth and weeding around the plant is a must. These procedures will resist the formation of a hard crust, which will block the access of air to the plant's root system.
The soil mix can be mulched to help control weeds.
Transfer
In order to prevent the stems from stretching, reducing the number of leaves and weak flowering, it is advisable to relocate the oregano to a new territory at an interval of five years. When transplanting, it is necessary to carefully separate the root system of the bushes.
On transplanted young specimens, in order to obtain a dense bush, it is necessary to remove the appeared inflorescences.
Oregano if possible can be transplanted to beds that have been planted with root crops – potatoes, carrots or legumes.
Pruning oregano
With the onset of spring, it is necessary to clean the plant – last year's shoots must be removed. More powerful and densely leafy stems will grow and develop better.
Wintering
Frost-resistant oregano does not need to be covered with the onset of winter. If there are no severe frosts under the snow, the leaves of the plant may be green until the onset of spring. When the aerial part freezes, with the onset of heat, fresh stems will appear from the root system.
How Oregano Reproduces
Transplantation is not at all terrible for Ladanka, and sowing seeds gives high-quality seedlings. This young culture can be obtained with:
sowing seeds;
division of bushes;
layering.
Oregano from seeds in the open field
Oregano seeds are sown in well-warmed soil, which must undergo preliminary preparation.
Equal portions of seeds and river sand are mixed for a more even distribution of seeds in the garden.
Then they are sown in grooves with a distance of 25 cm between them, to a depth of one centimeter, sprinkled with earth and mulched with humus. In a month, young seedlings will appear. When they acquire two leaves, you can start picking with a distance of 20 cm between them.
The seedling method is more complicated, but the efficiency of obtaining a young plant is higher. Seeds can be sown in early spring in cups. The soil must be fertile. Cups should have drainage holes. Water well, provide a warm place. Vases with emerging sprouts are deployed to bright areas. With the onset of the May heat, the kids are planted in an open area. A year later, flowers will appear on young plants.
Reproduction by dividing the bush
Good results for the propagation of oregano is considered to be the division of the bush into parts in which there are four stems. Accuracy in this process should come first so as not to damage the root system. This procedure is best performed in spring or autumn. Plant survival is good.
How to propagate oregano using layering.
To do this, perform the following steps:
In the spring, choose a good branch on the bush.
Bend it to the ground and fix it.
The middle of the branch adjacent to the ground is dug in.
The top tip of a stalk remains on air.
The dug part is regularly watered and cared for.
With the onset of the next spring, the stem with the roots that have appeared is separated from the adult plant and planted in a permanent place.
There are such ways of propagating oregano in a summer cottage.
Collection of oregano
When to collect oregano? Midsummer is the best time to pick oregano flowers. Cut twenty-centimeter stems are tied into bundles and tied up to dry in a well-ventilated area.
Dried oregano has a stronger aroma. Dried leaves and flowers are perfectly stored for two years in glass jars.
Oregano growing at home
Very often, flower lovers grow herbs on their windowsills. Oregano is no exception. Oregano in a pot also looks charming. Blooming it can be seen only a year after planting.
At home, oregano will grow well in any versatile soil. Flowerpots for incense should be with drainage holes and a volume of about three liters.
In summer, the plant will feel great on a balcony, terrace or in the garden, and in winter it must be relocated back to the windowsill.
Oregano in landscape design
Abundantly and beautifully flowering oregano can always enliven any site. Gardeners use different varieties of oregano with colorful leaves. Culture looks great near curbs, on alpine slides. Oregano gets along well in the neighborhood with other flowers such as birdman, purslane, coleus, chrysanthemum, hibiscus, phlox, nemesia, iberis, calla.
Oregano is a colorful, delicious, healing herb that you will surely enjoy in improving the design of the garden plot.
To do this, you need to plant this beauty in any territory of the site - in a fragrant garden bed, flower bed or in a flower pot and admire this beauty with high spirits.
You can contemplate, admire, get acquainted with a lot of interesting plants, their photos in alphabetical order by opening the catalog of houseplants from a to z on the site.